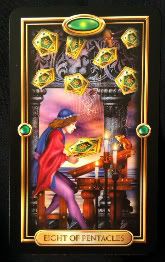 Eight of Pentacles
:
Prudence in all things
Earth
This is the element that relates to all things material, work, business, money and wealth. Success or failure will depend upon how strong the foundation is. Did you start on firm ground or soft? It is easy to see why when you consider where the worlds economic wealth hails from. Whether it is precious metals, gems, gas or oil, all need to be removed from the Earth.
Positive traits
: Expect changes in fortune, craft skills, general satisfaction
Negative traits
: Lack of decision or direction, wasted opportunities
Blessed be.
Eva