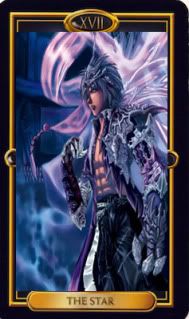 THE STAR
: This is the 18th card in the major arcana.
Hope springs eternal when this card hits your spread and it is no accident that it follows The Tower's destructive influence, bringing with it a sense of Hope, Generosity and Serenity.
It is the bearer of all that is good. You will enjoy a clear sense of future endeavours, good health, optimism and a possible renewal of faith. You can also expect the unexpected in the form of gifts.
The Star would also suggest that this is a time that bodes well for new adventures and new relationships.
This is such a positive card that even when faced with its reversed aspects of Cynicism, Lack of trust, Self-doubt and Pessimistic outlooks, good surprises will still happen.
Blessed be.
Eva