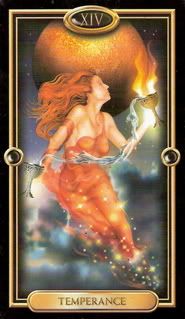 TEMPERANCE : This is the 15th card in the major arcana.
The appearance of this card signifies your ability to deal with highly charged situations through compromise and self control, bringing about a positive result.
Now is a time for enjoying some peace, harmony and the company of friends. A little of what you fancy will do you good, but it is important to exercise some moderation, or yo could feel worse for wear in the days that follow.
There is also a spiritual aspect to this card, perhaps you have that sense of someone 'Watching' over you, or you feel the need to seek guidance from a representative of your chosen faith.
In a less favourable position, this card can indicate a tendency to over-indulge, lack vision and impatience. Impatience can lead to unnecessary arguments and domestic conflicts. Now is not the time to make impatient and reactive decisions, this will only cause delays in your progress.
Blessed be.
Eva